The Online
Shopping Map Fashion trends & online shopping
– the Stylight Report –
Who is the American online fashion consumer?
Last year, we went on a quest to try to understand what women wanted (when it came to fashion, of course). Surprised by some of the data uncovered, we wanted to take it a step further. This year, the team at Stylight, Europe's leading fashion aggregation, analyzed the behaviors of our users to compile another data report around the American Online Shopper. 
Presented to you in a comprehensive infographic, we detailed buying habits, the growth and evolution of the fashion eCommerce market in America, forecasted Millennial spending power, global mobile vs desktop activity, hot trends, most purchased products and much more. Check it out below!
Data Report of the American Online Consumer
There are several important facts to note:
Age groups,  25-34 and 35-44, attribute to 47% of the highest consumers on Stylight.com. 
Top 5 performing cities with the highest transactions include: New York, Los Angeles, Houston, Chicago and Dallas.
Of the total shoppers on Stylight.com, 80% are women while roughly 20% are men. 
The value of the fashion e-commerce market in the US in 2015 was $304.91 billion (according to Internet Retailer)
Monday night seems to be the most popular day and time to shop on Stylight.com
According to Emarketer, 90% of American digital shoppers bought online at least once in the last 3 months. 
The Millennial Generation
"Millennials, and the generations that follow, are shaping technology. This generation has grown up with computing in the palm of their hands. They are more socially and globally connected through mobile Internet devices than any prior generation. And they don't question; they just learn." - Brad D Smith (CEO, President of Intuit)
American Millennials' spending power in 2020 will reach a whopping $1.4 trillion!
Today, Millennials make up about 25% of the US population and contribute to 21% of retail spending.
Of all Millennials that shop on Stylight.com, 72% are women and 28% are attributed by men.
Roughly 83% of American Millennials buy an item the same day they find their desired item (impulse buying is popular among this target group).
About 50% of Millennial consumers have purchased an item from the 'Suggested Items' displayed as they browsed an online retail site.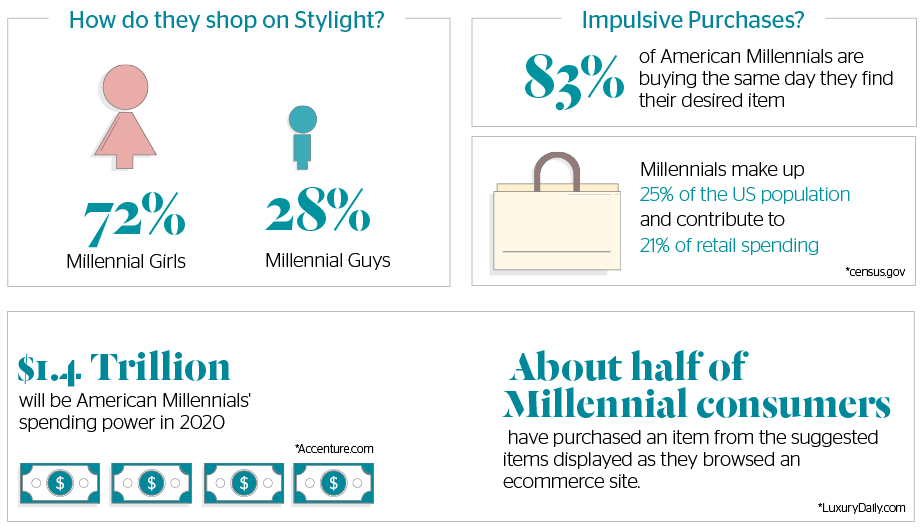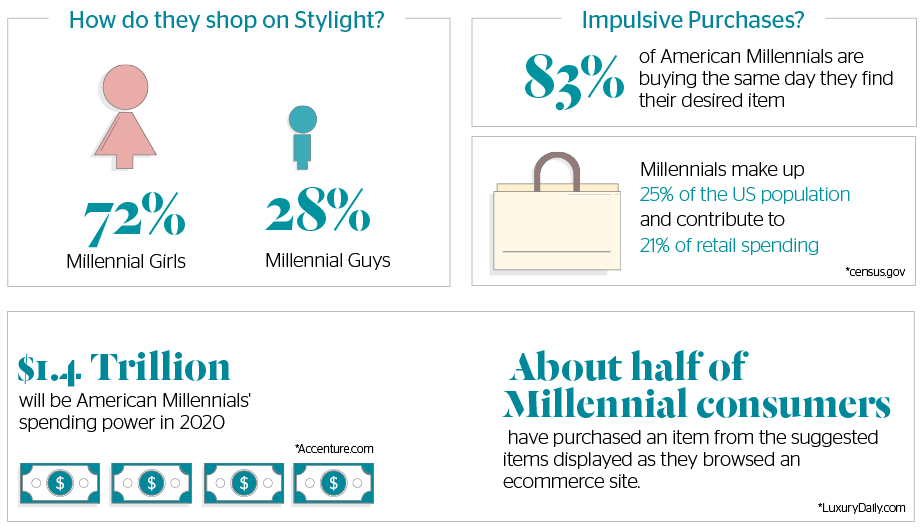 Our data suggests that the top 5 performing brands on Stylight.com currently are:
Another interesting data point is the trending color for last quarter.  On Stylight.com, navy blue performed best in evening dresses, jumpsuits and sneakers. 
Like our infographic?
Download it!
[unex_ce_button id="content_83up4us2t,column_content_6a0i1ac4d" button_text_color="#ffffff" button_font="bold" button_font_size="12px" button_width="auto" button_alignment="center" button_text_spacing="2px" button_bg_color="#00929e" button_padding="15px 60px 15px 60px" button_border_width="0px" button_border_color="#000000" button_border_radius="0px" button_text_hover_color="#ffffff" button_text_spacing_hover="2px" button_bg_hover_color="#000000" button_border_hover_color="#000000" button_link="https://love.stylight.com/wp-content/uploads/sites/18/2016/07/The-Online-Shopping-Map-US-2.png" button_link_type="url" button_link_target="_blank" has_container="" in_column="1"]DOWNLOAD[/ce_button]